Diwali 2023: Which sectors should you bet on in Samvat 2080?
Nov 08, 2023
Diwali 2023: Which sectors should you bet on in Samvat 2080?
Diwali 2023: Nifty 50 may see healthy gains in Samvat 2080. Which sectors should you bet on?
Nifty has continued to move higher even when majority have been worried about inflation, interest rates, US Bond yields and Israel war!
Because news or events will follow price movement. Charts never lie and it is best to look at Elliott wave patterns to understand the future.
Now coming back to the theme of which sector to bet on this Diwali?
Sector chart compared to Nifty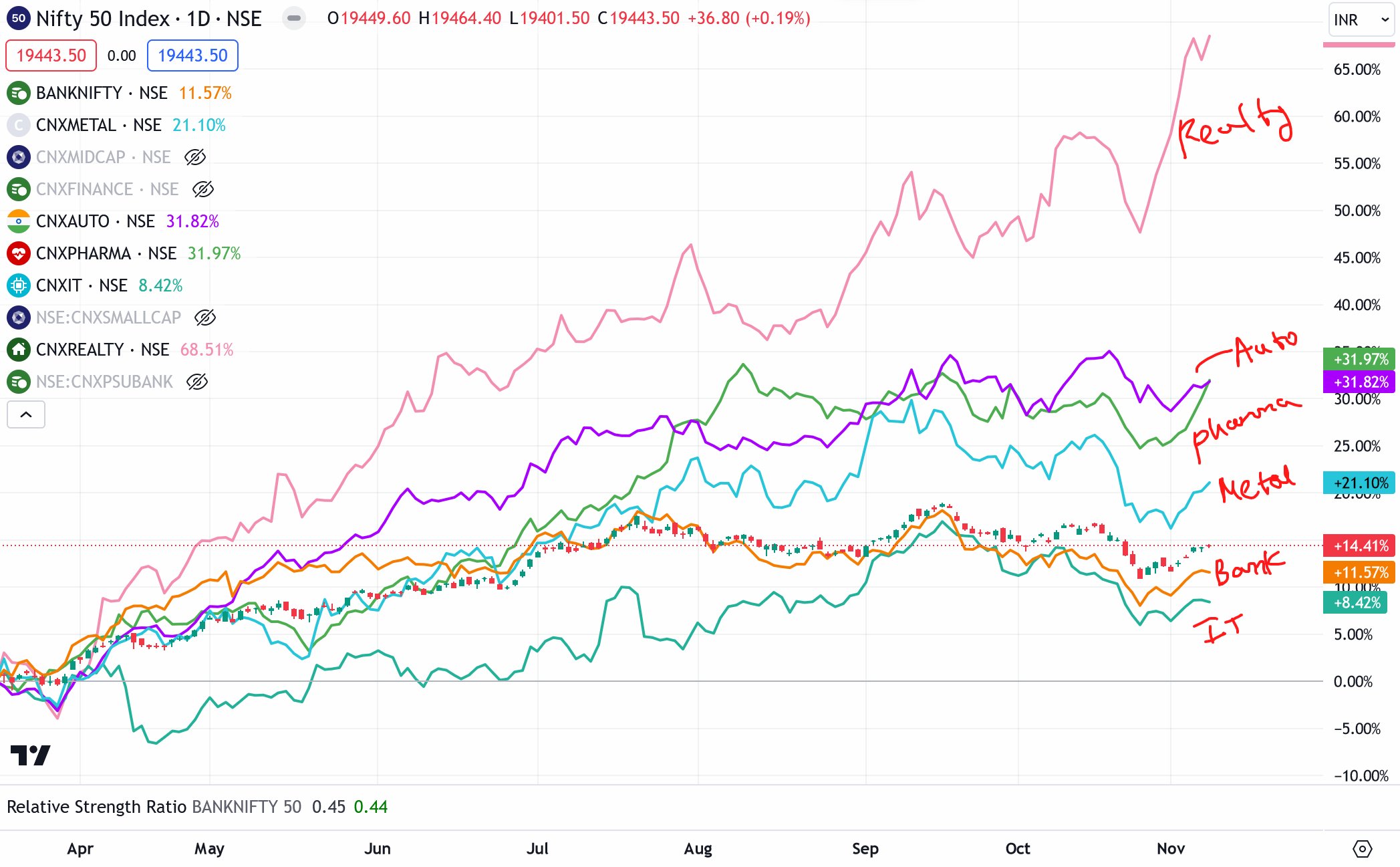 Sector percentage chart is shown above since April 2023.
In above chart we can see that Realty sector has strongly outperformed since April 2023 and the sector is up nearly 68% from the lows. Nifty on the other hand has moved up by only 14.41%
Sectors that has just started outperforming is Pharma which is gaining momentum followed by Auto and Metals.
Now seeing the above chart as Realty is heated up there is not much opportunity to invest here but Auto and Pharma can be top sectors to bet on going forward.
IT sector has been still a laggard and the day we start seeing it move above Nifty index we will know this is now emerging as the flavour.
The above research is a form of relative performance chart. Along with that there are ratio comparison and other way of identifying the performance as well.
In a nutshell, for Diwali 2023 – top sectors to look forward is Auto and Pharma but at the same time one needs to look at individual stocks within that sector using lens of Elliott wave, Neo wave and Time cycles from short to long term perspective to time it to the very day, hour and minute.
3 months of Mentorship on Timing the market – This is life transformation journey for traders who want to dip dive into trading and investment using scientific approach with complete handholding and time the market using Time cycles and Elliott wave, Neo wave techniques. Yes, you can time the entry to the very day and hour. We are creating #TimeTraders, the only question is are you ready to take the plunge! Fill below form for more details: